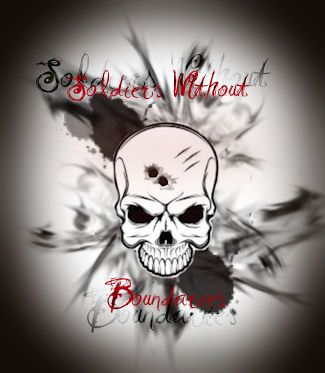 Soldiers Without Boundaries Clan
The Soldiers Without Boundaries Clan that is exclusive to all of Xbox Lives community for anyone who would like to join!

There is now an introduction forum set up. ALL members MUST post an introduction, as the applications have been taken down. This does NOT have to be personal, but you can make it personal if you choose to. It must at least contain your exact gamer tag. Please be sure to do this as soon as possible. TMT 1 has been posted under 'Structure'. The bootcamp test will be set up within the next day or two. This test will be the passing grade into an E-5 rank. After you become an E-5 by passing the TMT 1, send a group request for TMT 2, the link can be found at the bottom of the page. The new rank system is also up!! The awards and pins are still under construction, but will be up within the next day or two.

| # | Avatar | Username | Humor | Join date | Last visit | Posts | PM | Website |
| --- | --- | --- | --- | --- | --- | --- | --- | --- |
| 1 | | trojan23 | | 2011-07-09 | Sat Jul 09, 2011 8:01 pm | 0 | | |
| 2 | | Rook | Anything goes | 2010-05-19 | Tue Jun 29, 2010 8:21 am | 28 | | |
| 3 | | Blue Shark | Hilarious | 2010-05-19 | Mon Jun 28, 2010 5:58 pm | 46 | | |
| 4 | | Murder Rich | Its all good | 2010-05-17 | Mon Jun 28, 2010 1:36 am | 27 | | |
| 5 | | Dean Thompson | | 2010-06-09 | Sun Jun 27, 2010 12:46 pm | 0 | | |
| 6 | | Spiritual Killa | Things... | 2010-05-16 | Sat Jun 26, 2010 10:18 pm | 47 | | |
| 7 | | FTA DRACO | slap stick style | 2010-05-18 | Sat Jun 26, 2010 6:00 pm | 92 | | |
| 8 | | Pooka1973 | like to have a laugh | 2010-06-14 | Sat Jun 26, 2010 6:27 am | 4 | | |
| 9 | | Backside Ranger | Stuff | 2010-05-18 | Fri Jun 25, 2010 12:32 am | 42 | | |
| 10 | | DK I CoDa I | | 2010-06-03 | Wed Jun 23, 2010 10:14 pm | 4 | | |
| 11 | | Dr Boggles | OHH TEH LULZ! | 2010-06-12 | Tue Jun 22, 2010 6:19 pm | 15 | | |
| 12 | | Luther110 | Bit of everything | 2010-06-09 | Tue Jun 22, 2010 6:58 am | 1 | | |
| 13 | | Serpent6 | | 2010-06-08 | Tue Jun 22, 2010 2:10 am | 30 | | |
| 14 | | chargersbc55 | | 2010-06-10 | Mon Jun 21, 2010 6:51 pm | 10 | | |
| 15 | | That Dang Asian | I crack jokes, yeah. | 2010-06-01 | Mon Jun 21, 2010 5:30 pm | 22 | | |
| 16 | | Gel38 | Sarcasm/dry humor/ alot of stupidity | 2010-05-19 | Sun Jun 20, 2010 5:19 pm | 13 | | |
| 17 | | EricGraves | | 2010-06-17 | Thu Jun 17, 2010 6:39 pm | 1 | | |
| 18 | | mistakensword | | 2010-06-10 | Thu Jun 17, 2010 9:40 am | 1 | | |
| 19 | | vyvs | | 2010-06-09 | Mon Jun 14, 2010 5:49 pm | 2 | | |
| 20 | | Wildcat0505 | | 2010-06-09 | Sat Jun 12, 2010 1:29 pm | 1 | | |
| 21 | | Grouchy Jew | | 2010-06-12 | Sat Jun 12, 2010 2:22 am | 1 | | |
| 22 | | mrsugarb3ar | | 2010-06-09 | Thu Jun 10, 2010 11:52 am | 4 | | |
| 23 | | badfish750 | | 2010-06-09 | Wed Jun 09, 2010 2:09 pm | 0 | | |
| 24 | | Phelps | | 2010-06-08 | Tue Jun 08, 2010 5:43 pm | 1 | | |
| 25 | | theRAF84 | | 2010-06-08 | Tue Jun 08, 2010 12:42 pm | 0 | | |
| 26 | | WITCHKING300 | everything | 2010-05-22 | Mon Jun 07, 2010 9:02 pm | 3 | | |
| 27 | | sh4nker | | 2010-06-02 | Mon Jun 07, 2010 7:37 pm | 4 | | |
| 28 | | Think ur Godly | | 2010-05-21 | Sun Jun 06, 2010 4:40 pm | 2 | | |
| 29 | | Milk Entropy | live for something. | 2010-05-23 | Sun Jun 06, 2010 5:16 am | 10 | | |
| 30 | | Sw33tThunder | | 2010-05-25 | Sun Jun 06, 2010 3:41 am | 1 | | |
| 31 | | outflaw | | 2010-05-25 | Fri Jun 04, 2010 3:49 am | 4 | | |
| 32 | | Verdugo010 | | 2010-05-27 | Thu Jun 03, 2010 11:05 pm | 3 | | |
| 33 | | Watey | | 2010-06-03 | Thu Jun 03, 2010 8:23 pm | 0 | | |
| 34 | | Cheesypoof | | 2010-06-02 | Wed Jun 02, 2010 2:04 pm | 2 | | |
| 35 | | Bitkrazie | | 2010-06-01 | Wed Jun 02, 2010 12:10 am | 0 | | |
| 36 | | Lavendark | | 2010-05-28 | Sun May 30, 2010 12:48 pm | 2 | | |
| 37 | | Its Mr Yum Yum | None | 2010-05-28 | Fri May 28, 2010 6:54 pm | 2 | | |
| 38 | | nram588 | | 2010-05-28 | Fri May 28, 2010 4:42 pm | 1 | | |
| 39 | | moplin | | 2010-05-23 | Thu May 27, 2010 9:24 pm | 3 | | |
| 40 | | AAAYogibearAAA | | 2010-05-27 | Thu May 27, 2010 9:15 pm | 0 | | |
| 41 | | misteriosofuego | | 2010-05-20 | Thu May 27, 2010 6:20 pm | 0 | | |
| 42 | | granberg | | 2010-05-23 | Wed May 26, 2010 9:37 pm | 1 | | |
| 43 | | angel maker30 | | 2010-05-25 | Tue May 25, 2010 4:22 pm | 0 | | |
| 44 | | MrFawkes1605 | | 2010-05-23 | Mon May 24, 2010 4:12 pm | 3 | | |
| 45 | | BloodReeper44 | Slap Stick | 2010-05-21 | Sat May 22, 2010 10:10 pm | 0 | | |
| 46 | | Sandmanruble | | 2010-05-22 | Sat May 22, 2010 3:27 am | 0 | | |
| 47 | | LordSeaking | | 2010-05-17 | Mon May 17, 2010 9:44 pm | 1 | | |
| 48 | | Chron1cc | | 2010-10-06 | Never | 0 | | |